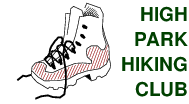 Royal Botanical Gardens -- Bruce Trail
Date: Saturday May 8
Hike Leader: Bill Baird
Sunday is Mother's day, so we are hiking on Saturday!
Directions
Take Highway 401 to Highway 403.
Take Highway 403 to its temporary end at the QEW.
Go west on the QEW.
Near Hamilton the QEW splits into two expressways. Stay to the right, Highway 403. Do not take the left lanes. They are for the QEW as it goes over the Burlington Skyway toward Niagara.
Drive past the Waterdown exit.
Take the next exit, north on Highway 6.
Less than a half a kilometer later, turn right onto Plains Road West.
The road itself will turn right, to the south. You will pass over Highway 403. Plains Road West will (appear) to end at a T-intersection.
Turn right again onto York Blvd.
Less than a kilometer later turn right for the fourth time onto Old Guelph Road (look for the 'Arboretum' sign).
This is a twisting road which will pass under Highway 403. A kilometer later drive past Arboretum Road.
At York Road (Stop Sign) turn left.
The parking lot is just past Valley Road (both Valley Road and the parking lot are on the right). The parking lot is not marked. If you get to the railroad overpass you have gone too far. We will start the hike to the north, on a Bruce Trail loop. We then hike south into Royal Botanical Gardens.
The hike starts at 11:30am.
Information
There is a decent restaurant called Louie's West Side Grill at 1124 Plains Road West. It is a quarter mile past the T-intersection, on the right (south) side.