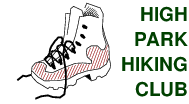 Doors Open
Date: Sunday May 29
Hike Leader: Andria Hourwich
For this week, we are not meeting at Yonge and York Mills at 10:00am. See the instructions below.
This is a city hike in the Don Valley, including visits to several doors open hot spots. Bring your own lunch, and water. There is a sandwich shop near the Rosedale station.
We meet at the Rosedale subway station at 10:30am.
Simple, eh?
Remarks
This is a Level 1 hike mostly on paved trails. There are some hills and a long flight of stairs for those of you who insist on a workout.
If it rains, we will skip most of the hike, but we will do the Doors Open stuff.