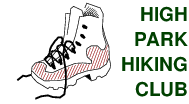 Hockley Valley
Hike leader: Jennifer Rowbotham
Date: Sunday October 4
How to get there
These directions take us to Hockley Hills, via Highway 400. Our previous directions use Highway 10. Either ones work.
Take Highway 401 west to Highway 400. Make sure you follow the lane that leads onto Highway 400, and avoid the lane to leads to Black Creek. There is of course, no exit the 400 from the express lanes.
Follow Highway 400 north to Highway 9/Davis Drive, exit 55. I believe that this highway is called Davis Drive on the right hand side of the intersection and Highway 9 on the left.
Turn left onto Highway 9 and follow it west, past Highway 50, to Airport Road. Look for a Petes Donuts on the southwest corner of Highway 9 and Airport Road.
Follow Airport Road north aa few kilometres to Hockley Valley Rd, which is called No. 7. You will see a flashing yellow light.
Turn left onto Hockley Valley Road. and follow it west to 2nd Line E.H.S. You will pass 4th Line E.H.S., 3rd Line E.H.S. on the north side, 3rd Line E.H.S. on the south side and finally a gift shop and cafe on your left.
Park on the south side of Hockley Valley Road, at 2nd Line E.H.S.
Meeting time is 11:30am.
Rating
Fairly difficult.
This hike is also sometimes call Hockley Hills. It runs up and down hills mostly. The area is mostly wooded with good shade. Hiking boots are recommended.
Hike start time
11:40 a.m.
Admission Fees
None.
Aprés Hike
After the hike, perhaps we can stop at Mono Cliffs Inn at Mono Centre.