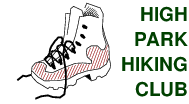 Kilgorie -- Pine River
Date: 2010 April 25
Hike leader: Howard Gibson
Kilgorie -- Pine River is on the Bruce Trail. From the Bruce Trail Guide, check out maps 20 and 21. Our lunch spot is at a nice lookout, which is not shown on the maps.
This trail is fairly short, but there are serious hills, and a lot of mud in the lower sections. Hiking boots and gaiters are recommended. This hike is of intermediate difficulty.
How to get there
There is not a lot of room to park at the site. We would appreciate it if you could show up for car pooling at Yonge and York Mills
Drive north on Highway 400 to Highway 89
Drive west on Highway 89, following the jog through Alliston.
Continue driving on Highway 89 through Violet Hill and up the hill out of Violet Hill.
Continue past 2nd Line E.H.S.
Turn right at 1st Line E.H.S. There will be a sign just north of the intersection for some sort of Boyne River school.
Drive north on 1st Line E.H.S. to the next big intersection, which should be Sideroad 10. On older maps, this will be called Dufferin Road 17.
Turn left onto Sideroad 10, and drive to Centre Road, which is the next intersection. This is labeled Whitfield on the maps. There is a small church on the north west corner.
Turn right and drive north until you reach a fork in the road. There will be signs indicating the way to River Road, indicating that this road is not maintained in the winter, and that one of the other roads is private.
Park. Be careful not to block access to anything, and don't park on any private property. There is not much room.
We will try to get going at 11:30am.