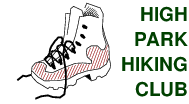 Mono Centre
Date: 2009 Nov 15
Hike Leaders: Rolf and Rona Berger
Road Map
Directions
These directions take you up Highway 400. Normally, it is possible to drive up Highway 410 and cut across to Highway 10, however, 410 is closed this weekend, north of Bovaird.
Take Highway 400 north to Highway 9.
Take Highway 9 west to Airport Road, Country Road 18.
Go north on Airport Road to County Road 8. The sign says Mono Centre and Mono Cliffs Provincial Park.
Go west on Country Road 8 to the 2nd Line. This is a T intersection in the village of Mono Centre.
Turn Right and go North on the 2nd Line.
Go up the hill and drive straight until the road ends. Park here. It's free.
The hike starts at 11:30am.
Hike Rating
This hike is rated at intermediate.
Park Map