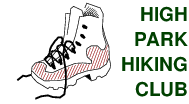 Doors Open Walk
Date: Sunday May 27
Hike Leader: Andria Hourwich
For this trip, we are not meeting at Yonge and York Mills at 10:00am.
Directions
This walk is planned to take advantage of the TTC. We will meet at 10:30am on the north east corner of Avenure Road and Davenport.
Paid parking is available for six dollars for the day, just north of the corner where we are meeting.
Remarks
Our first two stops are on the east side of Avenue Road, heading north. First is ISKCON, the Hare Krishna temple in a former Presbyterian Church. Next is De LaSalle Oaklands, a private boy's school up the hill. After that, we are off to the museum Spadina House , and its grounds, and to the Tollkeeper's Cottage at Bathurst and Davenport. We finish at Artscape Wychwood Barns near Christie and Saint Clair, which looks like a good spot for lunch. It is a neighbourhood culture and gardening centre. Food should be available either there or at a nearby Starbucks, but you may wish to bring your own snacks, to be on the safe side.
The Star will be running a special supplement on Doors Open, this coming Thursday.
The pace will be gentle.