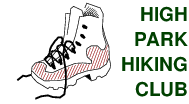 Hiking Info
Unlike skiing, or any of the competitive sports, you do not need training to go hiking. It does help to know what stuff to bring with you, and how to conduct yourself on group hikes.
Most High Park Hiking Club hikes are not physically intensive. A reasonably fit adult can show up, and expect to keep up with the group. We describe the difficulty level of our hikes with hiking notes that are linked from our schedule.
We do need you to keep up with the group. A slow hiker may force the leader to shorten the route they promised everyone else. Pleae check the hike descriptions, and note the level of difficulty.