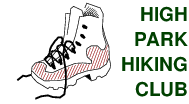 Mount Nemo
Date: Sunday September 9
Hike leader: Howard Gibson
This will be a short and gentle hike. This is a great chance to get in shape for the serious stuff we do later. There are some excellent lookouts, so bring your camera.
Directions There
Take Highway 401 west to exit 312, which is Guelph Line.
Go left (or south) on Guelph Line through Campbellville and Lowville.
Continue another 2.6 km and turn left into the Mount Nemo conservation area.
There is a $5 admission fee per vehicle. The hike will start at 11:00AM from the parking lot.
If we need some more exercise, we will drive over to the nearby River and Ruin side trail, and hike that. To get to the nearby parking, we can drive west on Colling Road, then north on Blind Line. Parking is just south of Britannia Road.
Après Hike
We have had trouible finding nice restaurants in the area. There is a nice bistro in Lowville which manages either to be expensive, and/or closed when we arrive.
An internet search reveals a possible solution. Moser's Patio and Grille This is on Guelph Line, south of the park.