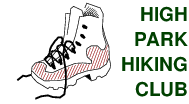 Royal Botanical Gardens
Date: Sunday June 8
Hike Leader: Bill Baird
Take Highway 401 to Highway 403.
Take Highway 403 to its (temporary) end at the QEW, and go west on the QEW.
Near Hamilton, the QEW splits into two expressways. Stay to the right, Highway 403. Do not take the left lanes. They are the QEW as it goes over the Burlington Skyway toward Niagara.
Drive past Waterdown Road.
Take the next exit, north on Highway 6.
A kilometer later, take the first exit ramp. At the end of the exit ramp turn right, southwest, onto York Road.
Drive past Old Guelph Road and Valley Road. The parking lot is about two kilometers from Highway 6, down York Road, on the right. It is not clearly marked.
If you get to the railroad overpass you have gone too far.
We start at 11:30am.
The Hike
We will start the hike to the north onto the Bruce Trail. We will do a loop and come back past the cars. Then we will walk down the road a few hundred yards and do a bigger loop into the Arboretum section of the RBG. The hike is timed to try and catch the lilacs, flowering trees, and the rhododendrons in full bloom.
Après Hike
There is a decent restaurant called Louie's West Side Grill at 1124 Plains Road West.
Take York Road back to Old Guelph Road.
Turn right.
At York Blvd (another different York) turn left.
York Blvd bends right and changes names to becomes Plains Road W. The restaurant is quarter mile on the right (south) side.