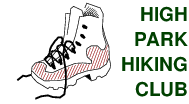 Scotsdale Farm and Silver Creek
Date: Sunday October 19
Hike leader: Alan Backlund
Driving Instructions
Take highway 401 west to exit 328, which is Trafalgar Road.
Go right, north, on Trafalgar Road past Georgetown.
At the tee junction turn left onto Highway 7.
Three and one-half kilometers later fork right onto Trafalgar Road.
Continue another 1.6 km and turn right at the sign for Scotsdale Farm.
The sign at the entrance to Scotsdale farm is not big and contains black text on a white background that says "Scotsdale Farm Conference and Reception Centre". The driveway has many large potholes, drive very slowly.
Google Maps shows the address as 13809-13817 Trafalgar Road North, Georgetown, ON L7G 4S4
Notes
There is no admission fee to Scotsdale farm.
The hike will start at 11:15am from the parking lot. The hike will be 13.8 kilometers and is rated as intermediate, with some rocky terrain, and possibly some muddy sections. The hike has no waterfalls but many rushing rivers (rapids), lots of forest, escarpment, views over the valley, mud in the deep crevasses, wild flowers and a few butterflies.