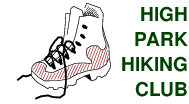 Durham Forest
Date: Sunday October 6
Hike Leader: Bill Baird
There are many trails at Durham Forest, so we can make the hike as long as we want (maybe over 15km).
Directions
Take Highway 401 east to Highway 404, and turn north.
Travel 24 kilometers to Bloomington Side Road.
Turn right and travel 17 kilometers to the town of Goodwood. The Bloomington Side Road changes name from Regional Road 40 to Regional Road 47 at the Durham border.
In Goodwood turn right at Church Street, the first lights. This road bends left and become the east-west Regional Road 21, Goodwood Road.
Travel nine kilometers and turn right at Concession 7. If you get to Lakeridge Road you have gone too far.
Travel six kilometers south. The parking lot is on your right. A bridge south of the parking lot on Sideline 4 is washed out.
The hike will start at 11:15am.
Remarks
Durham forest has all sorts of hills. This hike will be Level 2 difficulty. A good part of the hike will show up on your Oak Ridges Trail guide, if you have one.
On the trails today watch out for mountain bikers. This is a popular spot for them.
Bill has plans for the Après hike. He will bring driving instructions for these.