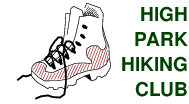 High Park Hiking Club
Hiking in the Greater Toronto Area! Each Sunday (mostly) during the spring and fall, we meet to car pool to parks and trails and go hiking. If you want a low impact work-out, fresh air and new people to meet, check us out.
We carpool from Old York Mills Road, usually at 10:00am. Always, always, always check our hike instructions.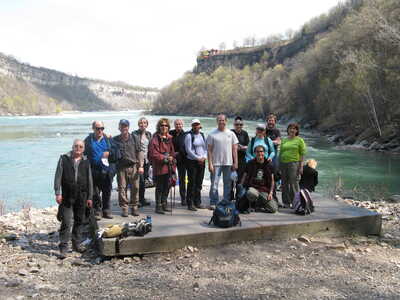 Announcements
Thursday night April 19

Our hike leader has pre-hiked the trails for Sunday. Not suprisingly, they are muddy and treacherous. We expect them to be in bad shape on Sunday. It will not be safe, and it will be bad for the trails. Regretfully, we must cancel the hike. Perhaps we can set up a city walk! Keep checking this website.

Saturday night April 14

We are watching the weather for tomorrow. The weather report predicts freezing rain, and unnecessary driving is not recommended. Tomorrow's hike to Bolton is canceled. It sounds like a lot of fun, so we will get it back into the schedule, later in the season.

Wednesday April 11

Our next hike is Bolton, with hike leader Bohdan Bilyj. We will do our standard 10:00am Sunday pickup at Old York Mills Road.

Wednesday April 4

We are still working on the schedule. We have filled April and we are working on May. This Sunday's hike is Long Sault with Howard Gibson as the hike leader. We will do our standard 10:00am Sunday pickup at Old York Mills Road.

Tuesday March 27

Our season opening hike is this Saturday, missing your Easter dinner, but not missing the maple syrup and pancakes at Mountsberg Conservation Area. Thank you Gerry.

Monday March 19

We are working on our Spring 2018 schedule. We have most of April filled in, and we are looking for hike leaders. We will set up membership over the next week or so. It is not yet possible to sign up.

Friday December 15

Our 2017 hiking season is done. Thank you everyone for coming out hiking, especially our volunteers. Merry Christmas. Happy New Year. You will hear from us next March.

Thursday November 23

Well, it was a bit of a scramble, but we have a hike and a leader for Sunday, our last hike of the season. We are hiking Hockley Valley with Jennifer Rowbotham. We will be doing our standard 10:00am Sunday pickup at Old York Mills Road.
Old News -- this runs on quite a bit.
Yes, we are on Facebook!