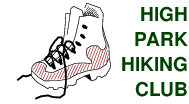 High Park Hiking Club
Hiking in the Greater Toronto Area! Each Sunday (mostly) during the spring and fall, we meet to car pool to parks and trails and go hiking. If you want a low impact work-out, fresh air and new people to meet, check us out.
We carpool from Old York Mills Road, usually at 10:00am. Always, always, always check our hike instructions.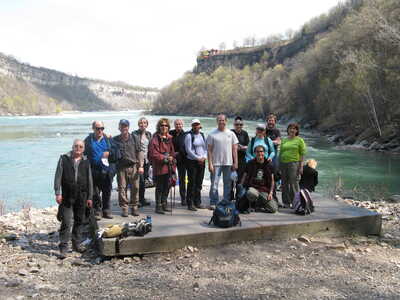 Pandemic Hiking
For this season, we will be following our Pandemic Hiking protocol.
Announcements
For Fall 2022, membership will be free. We are not running a full season. We will charge next year.
Thursday November 3

On Saturday night, turn your clocks forward. We are back to Eastern Standard time. Sunday, we are hiking Alton Grange.

Thursday October 27

Thank you to Katia Desz for stepping up with out next hike, City View, in Waterdown. The hike will be of level 2 difficulty, and it will run around fourteen kilometres.

Wednesday October 19

Our next hike is Bolton Heritage Trail led by Bohdan Bilyj. This hike is of level 2 difficulty, but it will go twenty kilometres.

Wednesday October 12

This weekend, we will be hiking the Oak Ridge Trail at Happy Valley, with hike leader Katia Desz. Keep checking this space in case we update instructions.

Sunday October 2

The hike is on next Sunday, as long as the weather cooperates. The Meetup page is now online, and linked to our Crothers Woods notes.

Tuesday September 27

Finally, we have a hike planned for October 9. Crothers Woods will be a nice, gentle way to resume hiking. We are looking for new hikes and hike leaders. We need to set up Meetup again.

Sunday September 11

We need to hike dammit! Keep watching this space.
Old News -- this runs on quite a bit.
Yes, we are on Facebook!