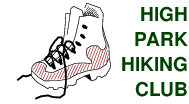 High Park Hiking Club
Hiking in the Greater Toronto Area! Each Sunday (mostly) during the spring and fall, we meet to car pool to parks and trails and go hiking. If you want a low impact work-out, fresh air and new people to meet, check us out.
We carpool from Old York Mills Road, usually at 10:00am. Always, always, always check our hike instructions.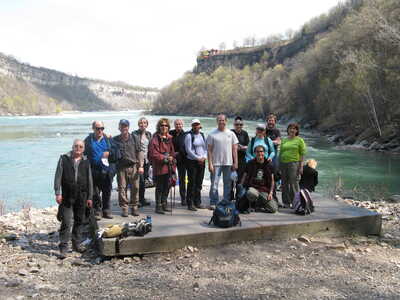 Announcements
Thursday November 17

Finally, we have Sunday's hike worked out. Mono Cliffs with hike leader Howard Gibson.

Thursday morning November 10

Sunday's hike is in the city. There is no pickup at Old York Mills Road! Alan Backlund is leading us at Crothers Woods in the Don Valley.

Wednesday November 2

On Saturday night, roll your clocks back one hour. That way, you won't be too early for our hike Sunday to Forks of the Credit with Andy Hueton.

Thursday October 27

We hike this Sunday to Seaton Trails.

Wednesday October 19

Let's try again! Sunday's hike is to Hockley Valley again, with hike leader Andrea Moses. Let's hope the weather cooperates this time.

Saturday evening October 15

Tomorrow's weather is not cooperating with us. It appears it will rain all day tomorrow. Sunday's hike to Hockley Vally is cancelled. Watch this space for more information.

Wednesday October 12

Our next hike is Hockley Valley with Andrea Moses.

Wednesday October 5

We hike Sunday to Primrose Boyne River with hike leader Howard Gibson.

Tuesday September 27

Our next hike is on Sunday, and it is to Rouge Valley thanks to hike leader Rober Freeman.

Thursday September 21

Saturday is the Jordan Ball's Falls Wine Tour with hike leader Jennifer Rowbotham. Other than the day of the weekend, we do our standard pickup at Old York Mills Road.

Wednesday September 14

We are working on the schedule and looking for hike leaders. We have a hike for Sunday, thank you Gerry Dombrower. We will do Rattlesnake Point, with a loop around Lake Crawford.

Saturday September 10

Our first hike for Fall 2016 is Long Sault with hike leader Howard Gibson.
Old News -- this runs on quite a bit.
Yes, we are on Facebook!