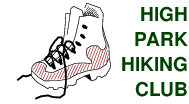 Pandemic Hiking
These Pandemic Hiking notes are a proposal at the moment.
This is subject to review by the hiking club executive. Feel free to email me, and/or leave comments on our Facebook page.
As of late August 2020, we are moving into Stage 3 of pandemic precautions. We want to resume hiking. We don't want to come down with COVID‑19.
In a pandemic, the hiking itself is fairly safe. We are outdoors, not in small enclosed spaces. There is no problem keeping distance between hikers, out on the trails. Our biggest safety problem is car pooling. We have the additional problem of contact tracing, in case a hiker comes down with COVID‑19.
We can run a couple of hikes without the formal carpool at Yonge and York Mills, and see how things turn out.
HPHC Pandenic Hiking Protocol
As of 2020/09/10...
How about we all get checked out for COVID‑10!
Hikes will be announced on MeetUp and posted on here on our website.
You will click on our link to book your hike on Eventbrite. Evenbrite gives us a manageable log of people who book our hikes. We need hiker's real names, phone numbers, and email addresses. There is no need for members to create Eventbrite accounts.
Wear masks while carpooling. No exceptions.
At the trailhead, the hike leader will take attendance and sure hiker's names, phone numbers and email addresses are logged.
We hike, maintaining the proper COVID‑distance. Maybe someone can bring a 2m stick for reference!
At the end of the hike, we go home. The bars and restaurants probably are not open. We can watch around and see if there is an opportunity. Maybe the club can provide refreshments at hike's end! We can discuss this.