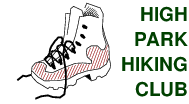 Forks of the Credit -- Cataracts
Date: Sunday May 20
Leader: Jennifer Rowbotham
We have already done Forks of the Credit this season, but that was up Devil's Pulpit. We have not yet done Cataracts this season, and we have lots of new members this season who were not here for the first one.
Detailed directions to the hike starting point
Take Highway 401 west to Highway 410.
Go north on Highway 410. This now curves to the west and it picks up Highway 10.
Continue north on Highway 10.
Travel past Regional Road 9, Flapjacks restaurant, and Forks of the Credit Road.
Turn left (West) at Escarpment Sideroad.
Park at corner of Willoughby Road and Escarpment SideRoad, where the road makes a sweeping right hand turn.
The start time is 11:30am. Here is the start point on Google Maps.
Notes
The distance will be around ten to twelve kilimeters. The hike can be considered Level 2 in difficulty, with a fair number of hills.