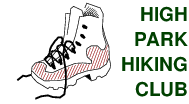 Kelso
Date: Sunday June 1
Hike Leader: Maurine Penton
Kelso is a new destination for us.
Directions
From our meeting point at Yonge and York Mills.
Take Highway 401 west to Highway 25
Take Highway 25 North to 5 Sideroad
Turn left onto 5 Sideroad.
5 Sideroad becomes Cambellville Road.
Turn left on Tremaine Road and cross south over Highway 401.
Turn right at Kelso Road and continue to the park entrance.
Turn right at the first parking area. We will meet by the lake.
The address is 5234 Kelso Road, Milton, Ontario, L9T 2X7. There is an entrance fee of around seven bucks per person. We start at 11:30am.
Remarks
This is a shorter hike with lots of variety and great views. We will circle the park and ski hill and camping area. Let's be careful on the cliffs and lookouts.
Après Hike
We will check out the Kelsey's on Highway 25, just south of Highway 401.