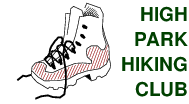 Showing Up
Please plan to car pool from Yonge and York Mills. Most of our trips start on Sunday morning at 10:00am, but you should take another look at the instructions, just in case.
We meet on Old York Mills Road at the south subway exit. If you are on Yonge Street, Old York Mills Road is the first road on the east side, south of York Mills. The two roads are on either side of a gas station. See the map below. The red dot marks the spot!
Google Maps: Yonge and York Mills
Car Pooling
Notes by Jonathan.
We arrange carpools on the day of the hike at Old York Mills Rd passenger pick up.
You do not need to sign up for seats in advance; you just show up before 10:00am, and we will divide the hikers into the available cars. Over the thirty plus years we have been carpooling, there have been a handful of times where we had more hikers than seats. On those occasions, a few of us would do a city hike and have a delightful lunch with our new found friends.
If you cannot come to Old York Mills Road to carpool, you can check our meetup site for ride offers and requests.
As a courtesy, please do not request or offer rides until you have made a commitment to go. Cancelations add confusion to our events.
Please note that people offering/requesting rides might not be members of our club; personal safety precaution is advised.
Carpool Etiquette
Drivers are responsible for returning their passengers to the nearest subway; please check with your driver if you need to be back to the York Mills station.
Passengers are responsible for their share of the carpool cost. Please check with your driver for the cost before taking the ride. Passengers are asked not to switch cars; you are responsible to pay the outbound driver for the return trip regardless. Please bring small bills. In the past, we had hikers who did not have exact change, which made an awkward situation for everybody.
Ask your driver if it is okay before you eat or drink in the car. We have had a complaint about people wearing excessive perfume. Apparently, it soaked into the car's upholstery. Some people are allergic to this stuff. On a hot sunny day, we are all going to get sweaty, so don't worry about your smell!
Please bring two plastic bags with you. In case the trail is muddy, you should put the bags over your dirty boots before climbing back into the car.
As noted, we usually go for a refreshment after the hike. Sometimes we even stay for dinner. If you must rush back to Toronto after the hike, please make it known at carpool time so that we can group the respective drivers and passengers together.
Carpool Cost
We do not have a designated carpool cost formula. Every car is different; please check with your driver for detail.
Here is a formula other clubs are using...
Carpool cost per car = (Gas price divide by 9, add 0.08 for wear), times the return trip distance.
Example: gas=$1.20, total distance=200 km
Take the price of gas, divided by nine. eg. $1.20/9 = 0.133
Add $0.08 for the car's wear and tear, and insurance, etc., 0.133 + 0.08 = 0.213
Multiply the number by the return trip distance, eg. 0.213 x 200 = Approx $43.00 per car.
Jonathan
March 2016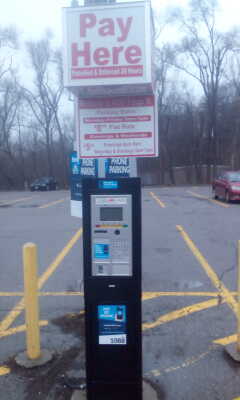 We are continuing to watch the TTC parking lot at Yonge and York Mills. The parking lot is available, but soon, it will be a construction site. The rates for weekend days are $5.00 from 5:00am to 7:00pm. If the Jolly Miller parking lot is a guide, we will be ticketed if we don't get back before 7:00pm.
There is parking around Yonge and York Mills. The worst case is that we will have to run up to Finch, or across to Wilson Subway station.