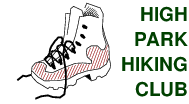 Lowville
Date: Sunday April 13
Hike Leader: Debbie McDermott
This is a new hike, off the Guelph Line.
Directions
From our meeting point at Yonge and York Mills.
Take Highway 401 west to Campbellville Road exit.
Go south on Guelph Line. Watch your speed. Most places it's only 60kph.
The road will twist around and pass Lowville Park. As you are almost out of Lowville, you'll come to the cross section Britannia Road.
Turn right, west. Go about l.5 kilometers and as you get to the top of a hill look for Blind Line on the left.
Turn left onto Blind Line - then you will have to turn around and find a place to park on the shoulder of the road facing Brittania.
Remarks
The trails were icy when they were scouted April 5. Hiking boots with good treads are strongly recommended. Ice cleats and hiking poles may be a good idea. We may be hiking slowly.
We will hike down into the valley on the Bruce Trail, then take the River and Ruins side trail, stopping to visit the ruins. We'll leave the trail to walk beside the river (spectacular with the Spring run off) to Lowville Park, where we will have lunch. After lunch, we will hike back to the River and Ruins trail and continue on, looping back to the Bruce Trail. We will cross the river and hike up to Twiss Road Kibride for the view, then hike back to the cars.
On the way home, anyone who wants to can stop at Kelsey's - just off the highway in Milton - for refreshments. Alternately, there is Moser's Patio and Grille, a short distance south of the hiking area.
Not sure how long this hike is .... probably not more than 3 hrs. We may walk slowly if it's icy.