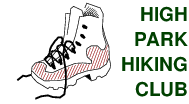 Waterdown
Date: Sunday October 14
Hike Leader: Bill Baird
This is on the Bruce Trail, out near Hamilton. We are doing a car shuffle, so a few extra cars will be appreciated.
Directions
From our meeting point at Yonge and York Mills.
Take Highway 401 to Highway 403.
Take Highway 403 to its (temporary) end at the QEW, and go west on the QEW.
Near Hamilton, the QEW splits into two expressways. Stay to the right, Highway 403. Do not take the left lanes. They are the QEW as it goes over the Burlington Skyway toward Niagara.
Drive past Waterdown Road.
Take the next exit, north on Highway 6.
About two kilometers later, at the first set of traffic lights, turn right onto Highway 5, Dundas Street.
Drive east thru most of town and turn right, south, on Mill Street.
At bottom of the hill turn right into the parking lot. It is just past the overhead train track bridge.
Directions to Hike Start
We will start the car shuttle about 11:30. Please go Waterdown first. We need the cars for the shuttle.
Turn left, north, out of the parking lot.
Turn left, west, at Highway 5.
Turn left, south, at Highway 6.
Take the first exit onto York Road, and turn right, southwest.
The parking lot is about two kilometers from Highway 6, down York Road. It is on the right, and is not marked. You will pass Old Guelph Road and Valley Road on the way. If you get to the railroad overpass you have gone too far. This is the same parking lot as last spring's Royal Botanical Gardens Hike.
Remarks
We will hike north on the side trails to the main Bruce Trail. Then we will turn right and take the trail to Waterdown. It is only about ten kilometers, but is very hilly. The gorge at the end is spectacular. Also, the Highway 6 road detour has been eliminated by a tunnel.