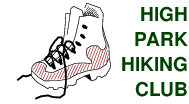 Niagara Gorge (USA)
| | |
| --- | --- |
| Date: | Saturday June 10 |
| Hike Leader: | Bill Baird |
| Distance: | 13km |
| Pace: | Moderate |
| Difficulty: | Level 2 |
| Invitation: | Meetup |
| Start at Trailhead: | 11:30am |
We will be hiking on the USA side of the gorge.
This trail is between 13 and 15km long, depending on whether or not they have re-opened one of the staircases. It has some rugged sections. We will be going down, and later up, the Niagara gorge. This is rated moderately hard.
Bring your passport.
You will not be allowed to cross the border without a passport.
Directions
We meet at Yonge and York Mills. at 9:00am, not our usual 10:00am.
Apparently, some roads in Buffalo have closed and/or have been renamed. These instructions are based on Google Maps as of June 6.
Take Highway 401 west to Highway 403 south.
Take Highway 403 to the QEW.
Take the QEW all the way to the city of Niagara Falls. Do not forget to take the Burlington Skyway.
In Niagara Falls take Highway 420 east.
When Highway 420 gets downtown it will bend to the right. Our earlier instructions mention Falls Avenue, but this is not visible on Google Maps. A very short distance later, turn left onto Rainbow Bridge road.
Once through customs, go straight (a slight left turn) onto Niagara Street.
Turn leff onto Rainbow Boulevard.
In about 100 metres, turn right onto Main Street.
After about 400 metres, turn left onto Third Street, and proceed north. At some point, this seems to transmogrify ino Whirlpool Street.
Whirlpool State Park appears to be about six kilometres from Main Street, on your left. Park!
Let's see what Google Maps says Saturday morning!
Après Hike
Dinner after the hike is Zappi's Pizzeria, on the Canadian side.
Retrace your route back to the Rainbow bridge.
Once through customs, travel a kilometre on Highway 420 and take the Victoria Street exit, on your right.
At the end of the ramp, turn left onto Victoria Street.
Victoria Street will bend to the right in two different places. After the second bend it will change names to Ferry Street. Three blocks later turn left onto Stanley Street.
About five blocks later, Zappi's Pizzeria is on the right, just past Dunn St.
Après Dinner
Turn left onto Stanley Street.
Travel through most of town and turn left onto Highway 420. Highway 420 has two other names, the Niagara Veteran's Memorial Highway, and Ferry Street.
Do not be creative when driving through Niagara Falls, Ontario. The road network is a nightmare. Also, on a previous trip, someone got horribly lost, and very late, following Google instructions.