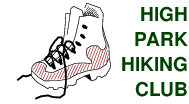 Showing Up
Please plan to car pool from Yonge and York Mills. Most of our trips start on Sunday morning at 10:00am, but you should take another look at the instructions, just in case.
We meet on Old York Mills Road at the south subway exit. If you are on Yonge Street, Old York Mills Road is the first road on the side, south of York Mills. The two roads are on either side of a gas station. See the map below. The red dot marks the spot!
Google Maps: Yonge and York Mills
Car Pooling
We have been around since long before MeetUp and the internet. We have always met at Yonge and York Mills to organize car pooling. It is nice if drivers and passengers connect over MeetUp, however, we need to make sure everybody goes hiking. We appreciate drivers who show up at Yonge and York Mills.
As a driver, you benefit from carpooling. You meet new people. This is partially why you joined the club, right? Your passengers help with navigation. You focus on driving safely. They help with gas money. You have the option of indicating that you would like to drop off somewhere else. This wlll convenience a lot of passengers, as well as you.
As a passenger, you get to hike outside the city, out of reach of the TTC.
When we fill the cars, we practise low-impact transportation to our hike destinations. Some of the parking lots at the hikes, are tiny.
Drivers are responsible for returning their passengers to the city. I go to York Mills, but I try to pick up people who are willing to be dropped off at the Kipling subway. If you offer to pick up at some other location than Yonge and York Mills, make absolutely certain you show up. If you are not absolutely certain, do not make the offer. If people show up at Yonge and York Mills, we usually can work something out.
Passengers, please return with the driver you came up with. If you do switch, make sure you tell your driver. If your driver thinks you are missing, we have to search for you.
We have had a complaint about people wearing excessive perfume. Apparently, it soaked into the car's upholstery. Some people are allergic to this stuff. On a hot, sunny day, you are going to get all sweaty, just like everyone else. Don't worry about it!
Car Pooling Cost
At our meeting August 20, we discussed car pooling costs. It would be nice to have some sort of official car pooling numbers. We propose the following...
Price of gas, divided by nine. As of 2014Aug22, gas is around $1.30/l.
$0.08/km for the car's wear and tear
Assume two passengers per car.
| Distance | kilometers | Cost per passenger |
| --- | --- | --- |
| Short trip | 50km max | $10 |
| Medium trip | 50-100km | $15 |
| Long trip | more than 100km | $25 |
This all is worked out very crudely, and rounded out to the nearest five dollars. We will have to announce the driving distance from Yonge and York Mills.
June 2014
We are continuing to watch the TTC parking lot at Yonge and York Mills. The parking lot is open. There is no mention of construction on TTC's website. There is a charge of $4.00 to park there on weekends.