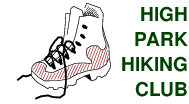 Speyside
Date: Sunday October 26
Hike leader: Duke Duyck
Directions
Take Highway 401 west to Highway 25, just north of Milton. This appears to be exit 320.
Go north on Highway 25 to 15 Side Road. This comes up after a right left kink in the road.
Turn left, west, onto 15 Side Road.
Turn left at Nassagaweya-Esquesing Townline South
Park at the end of that road. Google Maps shows a loop here.
This place is identified by Google Maps as 10545 Nassagaweya-Esquesing Townline, Milton, ON L9T 2X7 The actual hike start is a couple of hundred meters south of the point shown. The road does not extend as far as Google Maps shows.
The hike will start at 11:15 AM.
Notes
Check your Bruce Trail Guide, Map 12. We will be doing about 12km. There is rough terrain. Hiking boots are recommended.
Après Hike
A dinner spot has been suggested, Ivy Arms Irish Pub, 201 Main Street East, in Milton. 905.876.4899
From the hike, you drive straight down Highway 25. You stay on the road as it transmogrifies into Martin Street. Martin ends at Main Street. Look for parking. The pub is just west of the intersection.