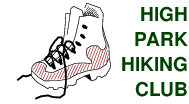 Smokey Hollow -- Waterdown
| | |
| --- | --- |
| Date: | Sunday April 22 |
| Hike Leader: | Deborah McDermott |
| Distance: | 12km |
| Pace: | Moderate |
| Difficulty: | Level 2 |
| Invitation: | to be set up on Meetup |
| Start at Trailhead: | 11:15 |
As of 2018/04/19, this trip is canceled.
Last weekend's wintry weather has left the trails muddy and treacherous. It would be better for us and for the trails if we stayed off them this weekend.
Directions to Grindstone Falls
The parking lot at Grindstone is tiny. Let's carpool. From our meeting point at Yonge and York Mills...
Take Highway 401 to Highway 403.
Take Highway 403 to its (temporary) end at the QEW, and go west on the QEW.
Near Hamilton, the QEW splits into two expressways. Stay to the right, Highway 403. Do not take the left lanes. They are the QEW as it goes over the Burlington Skyway toward Niagara.
Exit at Waterdown Road and drive north. At some point, you go up a hill and then come back down again.
The parking lot is on the left side, just as you are about to reach a railroad bridge.
Park in the parking lot!
We start the hike at 11:15. Google Maps directions. According to Google, the address is "150 Mill St S, Hamilton, ON L0R"
Remarks
Probably, we will wind up at the Royal Coachman, after the hike. This is up Waterdown Road, and turn left at the lights.