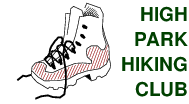 Balls Falls
| | |
| --- | --- |
| Date: | Saturday November 4 |
| Hike Leader: | Howard Gibson |
| Distance: | 12km |
| Pace: | Moderate |
| Difficulty: | Level 2 |
| Start at Trailhead: | 11:45am |
We are hiking the Jordan and Balls Falls area, and checking out winerys. Let's try some places we have not visited lately, Featherstone and Vineland. On the way to the pub in Jordan, we can check out Stoney Ridge Winery, located on an unhikable stretch of King Street.
Directions
From our meeting point at Yonge and York Mills.
From Old York Mills Road, get to the QEW westbound. Highways 401 then 427 or 403 should do it.
Keep to the left and continue on the QEW past the exit to Highway 403, across the Burlington Skyway.
Continue on past Hamilton. Look for Joran Harbour (Jordan Road), Exit 55. This is the next exit after Victoria Avenue.
Go south on Jordan Road, to Fourth Avenue. Turn right.
After a few hundred meters, turn left at Nineteenth Street.
Nineteenth Street passes through Jordan, past our usual parking spot. South of Jordan, look for Glen Road on your right.
Turn right on Glen Road. Watch on your right for Twenty Valley Trail Head parking.
Park!
Google Maps location. The street address is 3600-3650 Glen Rd, Jordan Station, Ontario.
Remarks
This is Bruce Trail hiking with some serious hills. There will be wine bottles in your backpack, so this will be a work-out. I will see if I can arrange a winery tour. Vineland has done this for us in the distant past.
Après Hike
Before we stop at Jordan House in Jordan, we can check out Stoney Ridge Winery, located at 3201 King Street, Vineland Ontario, In addition to their wines, they have a cheese cellar.