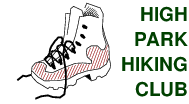 Crawford Lake
Date: Sunday April 7
Hike Leader: Deborah McDermott
Crawford Lake is a park on the Bruce Trail, with a meromictic lake, a visitor's centre and a re-created Iroquoian Village. This should be a good start to our hiking season.
Directions
Google Maps: Twiss Road
Parking space at Twiss Road is limited, so we should carpool from Yonge and York Mills.
Go west on Highway 401 to Guelph Line, exit 312. The previous exit will be Highway 25, exit 320.
Go south on Guelph line through Campbellville, to Conservation Road.
Turn right, west, on Conservation Road, and proceed to Twiss Road, called Second Line by the Bruce Trail guide. Turn left, south.
Go south on Twiss Road for about a kilometer and look for Bruce Trail parking.
We will start at 11:00am.
Remarks
This is a Level 2 hike that will run for about 12 kilometers for a total of around three hours hiking time. In addition to the visitor centre and the Iroquoian Village, there will be maple syrup demonstrations. No pancakes though.
We can dawdle at lunch.
People interested in food and drink aftwards can head for Moser's Patio and Grille down Guelph Line, south of Mount Nemo.