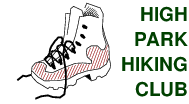 Eldred King Forest
Date: Sunday September 13
Hike Leader: Jonathan
This is part of York Regional Forest.
Directions
From our meeting point at Yonge and York Mills...
Take Yonge Street north to Highway 401 East, to Highway 404 north.
Go north on Highway 404 to Whitchurch-Stouffville, exit 45.
Go east on Aurora Road/York Regional Road 15 to Markham Road/Highway 48.
Go North on Markham Road/Highway 48 to Eldred King Woodlands.
The entrance is to your left, on the west side. There is no entrance fee to the park.
Remarks
This is a level 1 hike, with wide, well maintained trails. It is mostly flat, with some gentle, rolling hills, excellent for our first hike of the season.
The distance will be ten to twelve kilometres. The pace will be moderate at three for four kilometers per hour. We will finish at 3:30-4:00pm.
Après Hike
If we want to stop for something on the way back, we can try the Coach House Pub, 3 Felcher Blvd Whitchurch-Stouffville. This is straight back down Highway 48, just south of Regional Road 15.