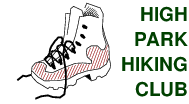 Glen Haffy
| | |
| --- | --- |
| Date: | Sunday May 1 |
| Hike Leader: | Jim Thomas |
| Distance: | 11km |
| Pace: | Moderate |
| Difficulty: | Level 2 |
| Start at Trailhead: | 11:30am |
Glen Haffy is a park off Airport Road, just south of Mono Centre at Highway 9.
Detailed directions to the hike starting point
From Old York Mills Road at 10:00am...
Take Highway 401 west to Highway 410.
Take Highway 410 north to Mayfield Road, and turn right, east.
Turn right, north on Dixie Road. This should be less than a kilometre from Highway 410.
Take Dixie to King Street, about six kilometres north, and turn right, east.
Take King Street to Airport Road, and turn left, north.
Drive north on Airport Road. Glen Haffy is just south of Mono Mills, some distance north.
As you go north, you will pass through the town of Caledon East.
As you approach Glen Haffy, you will pass Charleston Sideroad, County Road 24, on your left.
Look for Coolihans Sideroad, and turn right, east off of Airport road.
Drive approximately one kilometer and look for a yellow sign with a horse and rider. Park on either side of the road in the vicinity of the sign.
The start time is 11:30am. Here are the directions on Google Maps.
Notes
We changed from Forks of the Credit. This will be a new hike for our Meetup crowd.