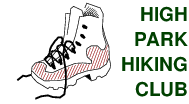 Glen Haffy
| | |
| --- | --- |
| Date: | Sunday November 19 |
| Hike Leader: | Katia Desz |
| Distance: | 14km |
| Pace: | Moderate |
| Difficulty: | Level 2 |
| Invitation: | Meetup |
| Start at Trailhead: | 11:15am |
We had some problems with this one last time, so let's try again!
We will do trails in Glen Haffy Conservation Area and part of the Oak Ridges trail. There will be some hills. See Map 17 in your Bruce Trail guide.
Directions
From our meeting point at Yonge and York Mills.
Go north on Yonge Street to Highway 401.
Take Highway 401 west to Highway 400.
Take Highway 400 north to Davis Drive and Highway 9 (Exit 55) just past Kettleby.
Go west on Highway 9 about thirty kilometres to Coolihan's Sideroad in Caledon.
Turn left. Coolihan's Sideroad goes south and then west. The parking area is right after you pass Glen Haffy Road, at the Bruce Trail signs.
The start time is 11:15am. Here are the directions on Google Maps.
Remarks
We can stop at the James McCarty at the Caledon Inn. This is straight south, down Airport Road, just north of Caledon East. The James McCarty sign is hard to see. If you reach Caledon East, you missed it.