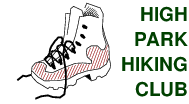 Grindstone Falls
Date: Sunday July 7
Hike Leader: Jennifer Rowbotham
We were going to run this on June 16 but it was raining.
This hike is on the Bruce Trail, on the escarpment in the Waterdown area. See map 9 in your Bruce Trail Guide.
Directions
From our meeting point at Yonge and York Mills.
Take Highway 401 west to Highway 403.
Follow Highway 403 south to where it merges with the QEW.
Watch for where hwy 403 splits from QEW, just past the Guelph Line, and keep to the right lanes to stay on Highway 403.
Take the exit for Highway 6 North, and follow Highway 6 up to Dundas Street/Highway 5.
Turn right on Dundas Street, and follow it into Waterdown until you come to Mill Street.
Turn right on Mill Street, and follow it down the hill and under the railway bridge.
Just after passing under the bridge, look for a small parking lot on the right side.
The Google Maps link, above, recommends taking the Waterdown exit and driving north.
The hike will start at 11:30 or shortly after.
Remarks
This is a Level 2. There are lots of hills. The pace will be moderate. I do not know the distance.