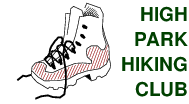 Long Sault
| | |
| --- | --- |
| Date: | Sunday September 11 |
| Hike Leader: | Howard Gibson |
| Distance: | 15km |
| Pace: | Moderate |
| Difficulty: | Level 2 |
Long Sault Conservation Area is located north of Bowmanville. It is part of the Central Lake Ontario Conservation Authority.
Directions from Yonge and York Mills
Take Highway 401 east to exit 431, Regional Road 57,
Go north on Regional Road 57 (about 18km, but keep your eyes open) to Regional Road 20 (concession 9). This might be called Boundary Road now.
Turn right on Regional Road 20, travel a few kilometres to Woodley road,
Turn left (north) on Woodley road. Travel to the end of the road to Long Sault's parking lot.
Pay and Display Parking is in effect at a cost of $5 per vehicle per day. Last spring, this turned out to be a machine that accepted only coins. Bring five bucks change. This is another good reason to carpool.
We meet at 11:15am.
Level of Difficulty
Last time we were here, we did fifteen kilometers. There is lots of opportunity to shorten or lengthen the hike. It is our first fall hike, so we will take it easy. The pace will be moderate.
As of 2015Mar26, the website reports signs of black bear. We should be safe in a noisy group. Don't wander off alone. If you see a bear, don't approach it. Do not run away. You will trigger the bear's instinct to chase. Bring a telephoto lens.
Après Hike
Is anybody familiar with bars in Bowmanville?
I propose Maddy's Pub & Restaurant at 7 Division Street, Bowmanville.