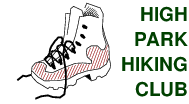 Mountsberg Conservation Area
| | |
| --- | --- |
| Date: | Saturday March 31 |
| Hike Leader: | Gerry Dombrower |
| Distance: | 10km |
| Pace: | Moderate |
| Difficulty: | Level 1 |
| Invitation: | Meetup |
| Start at Trailhead: | 11:00am |
Mountsberg Conservation Area has gentle terrain, perfect for that first hike of the season. You don't even need to pack a lunch, since It's Maple Syrup Time! You can purchase a lunch of pancakes and sausages, with maple syrup.
If you are not car pooling from York Mills and Yonge, we will be meeting at 11:00 a.m. in the parking lot in the Mountsberg Conservation Area .
Take Highway 401 West to the Guelph Line, exit 312. This exit is just past Milton.
Drive south through the town of Campbellville to Campbellville Road.
Turn right onto Campbellville Road and drive approximately 4 kilometers to Milborough Line. You will see Conservation area signs for Mountsberg as you get close to the Milborough Line.
Turn right onto the Milborough Line and follow approximately 1 kilometer to the Conservation Area entrance. You will make a left hand turn to get in.
The admission fee to the Conservation area is $7.75 per person, a bit less if you are a senior.
Remarks
This hike is rated easy and is about 10 kilometers. We hike by a lake with great lookouts and can climb a wooden tower for great views Also, there are maple syrup demonstrations
Après Hike
Ned Devine's Irish Pub, 575 Ontario Street South, Milton, Ontario, (905.864.6794), is an excellent place to finish of a day of hiking. This is Derry Road and Ontario Street, on the north west corner. Here it is on Google Maps.