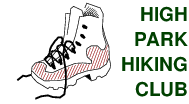 Niagara Excursion
| | |
| --- | --- |
| Date: | Saturday August 12 |
| Hike Leader: | Jennifer Rowbotham |
| Distance: | 15km |
| Pace: | Moderate |
| Difficulty: | Level 1 |
| Start at Trailhead: | 11:15am |
We cancelled out July 22 trip. Let's try again. The Wednesday weather report says 50% chance of thunderstorms on the day.
Check for announcements on the website and/or Meetup on the morning of the hike.
We are starting from the Niagara Glen Nature Centre. This used to be the gift shop we started from. Instead of going down into the trails, we walk along the top of the gorge. We will hike past the Rainbow Bridge, and take the Hornblower Cruise. This route is mostly flat and paved. This is a Level 1 hike, suitable for beginners. We can hike back to the cars, or take the Wego bus back.
Directions
We meet at Yonge and York Mills at 9:00am!
Go north to Highway 401.
Drive west on the 401 to Highway 427.
Drive south on 427 to QEW Hamilton.
Follow the signs for QEW to Niagara Falls, and cross the Burlington Skyway.
Continue on the QEW to Niagara.
Shortly after you cross the St. Catherines Skyway over the Welland canal, the highway will fork. Keep to the left and follow Highway 405 to Queenston/Bridge to the USA.
Six kilometres later, on the right, exit the 405 at Stanley Avenue. Do not miss the Stanley Avenue exit! The next exit is the USA!
At the end of the ramp, turn left.
Cross on the bridge over Highway 405 and turn right onto Portage Road.
About three kilometers later you will enter a round-a-bout. Take the first right onto the Niagara Parkway.
A couple kilometers later, you will see a fairly large, open parking lot on the left side of the road opposite a golf course. There should be signs for Niagara Glen Nature Reserve.
Park here.
Here are the instructions from Google Maps. These have you turning right at Stanley Avenue, and winding around to the parking lot the opposite way.
A couple of years ago, Google's alternate instructions were to cross at the Buffalo and Port Erie Public Bridge, work your way around through the USA, and hurtle the gorge Evel Knievel style. We are sure Canada Customs would have wanted a word with you.
The address for you GPS users is 3050 Niagara Pkwy, Niagara Falls, Ontario.
The hike starts at 11:15am.
Remarks
This hike is 7.5km to the Rainbow Bridge, and 7.5km back if you don't take the bus. The cruise is $26.00. The WEGO bus is $7.50, if you are not okay walking back.
If time allows, we will check out some winerys in the area.