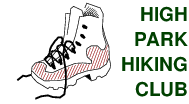 Niagara Gorge (USA)
| | |
| --- | --- |
| Date: | Saturday May 7 |
| Hike Leader: | Bill Baird |
| Distance: | 13km |
| Pace: | Moderate |
| Difficulty: | Level 2 |
| Start at Trailhead: | 11:30am |
We are hiking on the American side of Niagra Gorge this time. This trail is about 13 kilometers long. It has some rugged sections. We will be going down, and later up, the Niagara gorge. It is rated moderately hard.
Bring your passport.
You will not be allowed to cross the border without a passport.
Directions
We meet at Yonge and York Mills. at 9:00am, not our usual 10:00am.
Take Highway 401 west to Highway 403 south.
Take Highway 403 to the QEW.
Take the QEW all the way to the city of Niagara Falls. Do not forget to take the Burlington Skyway.
In Niagara Falls take Highway 420 east.
When Highway 420 gets downtown it will bend to the right and become Falls Ave. A very short distance later, turn left onto Rainbow Bridge road.
Once through customs, go straight (a slight left turn) onto Niagara Street.
Drive through Rainbow Boulevard and turn left at 1st Street.
1st Street will change name to Robert Moses Parkwasy. Drive about 3.7km and turn left into the Whirlpool State Park parking lot.
Google Maps likes Highway 405 and the Lewiston-Queenston Bridge.
Après Hike
Dinner after the hike is Zappi's Pizzeria, on the Canadian side.
Retrace your route back to the Rainbow bridge.
Once through customs, travel a kilometre on Highway 420 and take the Victoria Street exit, on your right.
At the end of the ramp, turn left onto Victoria Street.
Victoria Street will bend to the right in two different places. After the second bend it will change names to Ferry Street. Three blocks later turn left onto Stanley Street.
About five blocks later, Zappi's Pizzeria is on the right, just past Dunn St.
Après Dinner
Turn left onto Stanley Street.
Travel through most of town and turn left onto Highway 420. Highway 420 has two other names, the Niagara Veteran's Memorial Highway, and Ferry Street.
Do not try and be creative when driving through Niagara Falls, Ontario. The road network is a nightmare.