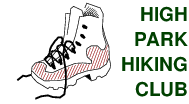 Rattlesnake Point
| | |
| --- | --- |
| Date: | Sunday October 20 |
| Hike Leader: | Debbie McDermott |
| Distance: | 13km |
| Pace: | Moderate |
| Difficulty: | Level 2 |
| Invitation: | Meetup |
| Start at Trailhead: | 11:15am |
We have swapped dates. October 20 was to be Clapsons corners/Borers Falls. Now, that hike is October 27.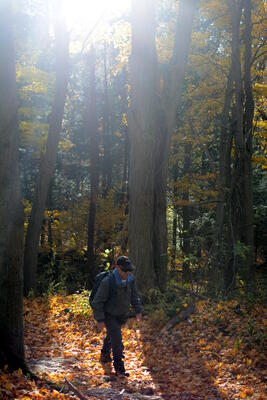 We start at Rattlesnake Point Conservation Area and we hike across the valley to and around Crawford Lake.
Rattlesnake Point has tall cliffs which have been the scene of fatal accidents!
Be careful around the edges. Do not cross barriers. Keep an eye out for careless hikers. Follow the hike leader's instructions. We don't want accidents.
Bring your camera, but be careful. There are no rattlesnakes at Rattlesnake Point.
Take Highway 401 west to Highway 25 at Milton, exit 320.
Turn south.
At Steeles, turn right (west).
At Appleby Line at the "T" intersection, turn left (south).
After a couple of kilometres, the parking lot is on your right.
If you get to the Niagara Escarpment hill (road goes down and twists and turns) you have gone too far.
Google Maps Directions. GPS address: 7200 Appleby Line, Milton, Ontario L9T 2Y1
There is an admission fee to the park, $7.00 for adults.
We will meet in the lower parking lot. Historically, we meet in the upper lot. This time, we do not immediately turn left, once we are in the park. Just follow the signs.
Remarks
We will meet at the LOWER Parking Lot at Rattlesnake Point, appreciate the view at the Nassagaweya Canyon lookout, then hike five kilometres to Crawford Lake along the Nassagaweya Trail. The trail is the most challenging in the conservation area with some narrow spots, tight turns and no rest areas. At Crawford Lake we will take twenty minutes for lunch. Limited food and drinks are available at the visitor centre -- bringing your own is recommended. During lunch break, pop down to get a glimpse of Crawford Lake before we return along essentially the same trail (Bruce Trail which is adjacent to the conservation area trail, closer to edge of the escarpment and rockier) to Rattlesnake Point. On return to the car park, if time and energy permit, we will complete an additional loop that takes us along the edge of the escarpment to two more lookouts. Total kilometres 11-13, taking approximately four and a half hours.
Après Hike
Ned Devine's Irish Pub, 575 Ontario Street South, Milton, ON L9T 2N2, (905.864.6794), is an excellent place to finish off a day of hiking. This is Derry Road and Ontario Street, on the north west corner. Here it is on Google Maps.