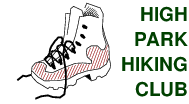 Rouge Valley
| | |
| --- | --- |
| Date: | Sunday October 2 |
| Hike Leader: | Robert Freeman |
| Distance: | around 10km |
| Pace: | Moderate |
| Difficulty: | Level 2 |
| Start at Trailhead: | 11:00am |
This is an easy, short hike with a couple of climbs. We have done it a number of times, but it hasn't been on the schedule of late.
Directions
From our meeting point at Yonge and York Mills.
Take Highway 401 east to Meadowvale.
Go north on Meadowvale.
Turn right, east, on Sheppard Avenue.
Shortly after, make a left onto Twyn Rivers Drive.
Pass the small parking lot on your right, as you round the first turn. Continue about 1.5 kilometres on the windy road, crossing a couple of narrow bridges.
Look for a large parking lot on your right. It has a dirt surface.
The lot is for the Rouge Park Celebration Forest through which we will hike.
Remarks
Terrain is generally flat and trails wide. Blazes are clearly marked. Hikers need to follow the blazes, as other trails have been forged along the way.
There is a tick alert, so hikers should wear pants and light coloured long-sleeve shirts. DEET is recommended as a bug spray. The hike will be short. There is a short hike immediately on right as you exit the lot (we are not to cross the creek) that we could do again to lengthen the hike.
Après Hike
Usually after hiking in this area, we wind up at the Black Dog Pub.