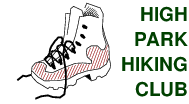 Scarborough Bluffs Lake Ontario
| | |
| --- | --- |
| Date: | Sunday April 16 |
| Hike Leader: | Bill Baird |
| Distance: | 8km? |
| Pace: | Moderate |
| Difficulty: | Level 2 |
| Invitation: | Meetup |
| Start at Trailhead: | 10:45am |
Let's start our hiking season off in the city, at an important Toronto landmark.
Directions
From our meeting point at Yonge and York Mills.
Take the 401 east to Brimley Road.
Turn south and drive seven kilometres to Kingston Road.
Turn left. Drive 2 km east to Bellamy Road South, and Ravine Drive. Bellamy is on the north. Turn right, south onto Ravine Drive.
Drive a very short distance south. The road will turn left and change name to Bellehaven Cres. Park in the first available spot on the south side.
The hike starts at the top of a ravine where Ravine Drive switches to Bellehaven Cres. According to Google Maps, this is Doris McCarthy Trail, at 9 Ravine Drive, Scarborough, ON M1M 1H2.
Remarks
This is a loop trail about 7.7 kilometres long. We can add a 1.5 kilometres addition on the shoreline making the total 9.2 kilometres. We could add more. We will take a vote after lunch. Most of the hike is along the Lake Ontario shoreline, below the Scarborough bluffs. Lunch will be on the rocks of the shoreline. You might want to bring a sitting pad. There is a two kilometre stretch of road in the middle. We will be walking the entire length of a quiet residential street called Sylvan.
Along the Lake Ontario shoreline it can be very windy. If it is a windy day bring a windbreaker. If it is cold bring an extra layer. Also, if it has recently rained, parts could be slippery.
On the way home, Bellamy is not a thru street. It is interrupted by the railway tracks and the Eglinton Go station.