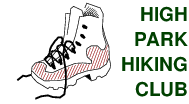 Social Events
High Park Ski Club FITS Night
High Park Ski Club is no longer running its Fun In The Sun (FITS) night. They are increasingly doing stuff online. The Lithuanian Hall is getting expensive.
We will be linking back and forth between our websites.
Sister Clubs
We don't hike during the winter. Try skiing during the winter! Downhill skiing, snowboarding, cross country skiing and snowshoeing are way easier during the winter than they are in other seasons.
This used to be called the High Park Bicycle Club. They run day trips and weekend trips, mostly during the summer when we are not hiking.